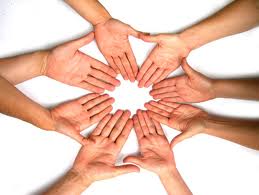 A warm welcome to the website of the Wollongong ME/CFS/FM Support Group. Coordinators are John & Winsome and Email Coordinator is Kerri. Contact us for more information. 
We have events available in Wollongong and Oak Flats each month. All are at accessible venues with nearby parking and public transport. (N.B. Not held in person during COVID. All gatherings are via Zoom.)
Many of our members also have Multiple Chemical Sensitivity (MCS) and allergic reactions to strong fragrances, so please refrain from wearing perfume, after shave or other strongly scented products. Meetings are No Smoking zones.
The members who are bed bound or house bound and not able to attend Support Group events face to face are "there in spirit". Other ways to keep in touch and feel involved are via email, our Facebook Group, phone and mail. We also now offer a Zoom Chat from Home gathering.
The blue ribbon and butterfly are the symbols for ME/CFS, the purple ribbon and butterfly are the symbols for FM and the green ribbon and butterfly are the symbols for MCS.
We are affiliated with the National organisation: Emerge Australia. View their information on ME/CFS and Fibromyalgia anytime, or become a member. You can also visit their Facebook page, call them on 1800 865 321 or email them at information@emerge.org.au.
We are also affiliated with the State organisation: ME/CFS & FM Association of NSW. You can join their closed Facebook group and view their open Facebook page.
Mission Statement:
The Wollongong ME/CFS/FM Support Group is for people with ME/CFS (Myalgic Encephalomyelitis/Chronic Fatigue Syndrome) and/or FM (Fibromyalgia), as well as MCS (Multiple Chemical Sensitivity) and other related neuroimmune conditions in the Illawarra and surrounding regions.
Our mission is to offer practical help, information, support, friendship and validation to these people, as well as their carers, families, friends and Health Professionals in positive and meaningful ways via face to face contact at Support Group Meetings and Cafe Clubs, email, Facebook Group, telephone and mail.
Our motto is ~ Care, Share & Dare ~
Our main aims for ME/CFS, FM & MCS Awareness Month, in May each year, are to make contact with, and give support to, ME/CFS, FM and MCS sufferers and to increase knowledge of these debilitating conditions throughout the community.